Registration is open for 2019-2020 school year- Space is limited- Call today!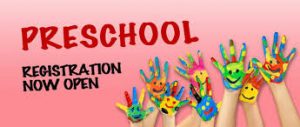 Center hours for 2019-2020 will be from 8-5:30 pm
                      Contact Susan at susan@cumberlanducc.org or 829-3419                                                                      for a tour and more information
We offer a Core developmental preschool program for children ages 2 1/2 (3 by January 1st and potty trained ) to 5, from 9 am to 12 noon. You may register for just the Core program if you desire.  We also offer an option to attend any part of our extended hours- which is early drop-off from 8 to 9 am and "Lunch Bunch" from 12 noon to 5:30 pm. A child must attend the Core program to stay for extended hours.Older siblings (up to grade 3)  of enrolled students may take the bus from MIW and stay for the afternoon hours as well. This may be arranged with the Director.
Any child enrolled in the morning program may attend the Lunch Bunch portion of our day –any day of the week, even though they are not enrolled that morning,  with advanced notice.  You are billed at the end of the month for only the time you used.
We have 2 classrooms with no more than 20 per day between the 2 rooms.
Our 3-4 year old room is taught by Miss Beth, with 7-8 in the class per day.
Our Pre-K classroom is team taught by Miss Elena and Miss Molly and that class has from 10-13 per day.